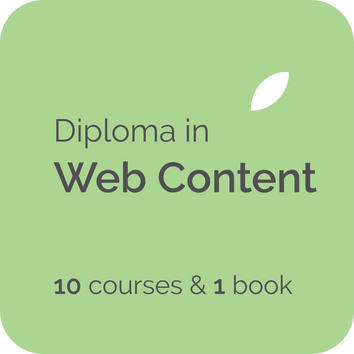 Diploma in Web Content
Our most popular qualification — 10 web writing courses and textbook
$230.00
---
Course overview    
 
Gain all the essential web content writing skills in 10 hours. Learn to write digital content that's usable, findable, readable, accessible, clear and correct.
This is our most popular web writing course, designed for busy professionals who need digital content writing skills at work — web content writers, technical writers, content managers, content strategists, government workers, and copywriters.
You will learn
practical skills in web content writing and copywriting
how to attract online readers
modern plain English writing techniques
why writing for digital media differs from print
the mechanics of digital content and how search engines work
how to write for mobile devices
confidence to apply these technical writing skills to your work.
Top features 
Written by content specialists and expert trainers
Recognised CPD qualification to add to your professional credentials
Accredited by the CPD Standards Office, UK
Equivalent to a 2-day content writing class or workshop
Takeaway course materials and detailed e-book by Rachel McAlpine
100% money-back guarantee
Course curriculum: 10 online web copywriting courses
Writing for online readers: Understand how to communicate with readers who are uncomfortable, stressed, searching, and in a hurry.
Writing web headlines: Write web headlines that instantly work for people and search engines.
Writing web page summaries: Master 5 types of web summaries that get the message across.
Writing useful hyperlinks: Create links that people can instantly find, understand and use; learn what to write instead of Click Here.
Using images and graphs online: Make visual content accessible.
Writing plain English, part 1: Learn how to check the readability of your content, structure documents for clarity, and write concisely.
Writing plain English, part 2: Learn how to use clear words and sentences; avoid grammar mistakes.
Editing web content: Master a powerful 4-step content editing system, easy to remember and use. 
Writing mobile content: Understand how to write digital content that works on mobile phones.
Writing for search engines: Discover how content writers can improve search results and search engine rankings for web and intranet content.
Course details
Audience: You need these skills for jobs in professional business writing, corporate communications, web content writing, online publishing, content marketing, public relations, technical writing, content management, digital marketing and government.
Prerequisites: None, apart from computer and internet access. No knowledge of IT or accessibility required.
Qualification: Professional development qualification, independently accredited by the CPD Standards Office UK: 10 credits for your CPD record. 
Time and place: Distance learning courses. Start any time within 12 months. Study online at your own pace.
Duration: You can access the online courses for 180 days from the time you first log in. Equivalent to 2-day professional workshop.
Assessment: 10 online tests.
Authors: Alice Hearnshaw and Rachel McAlpine, respected specialists in digital content, are the course authors.
About the content writing textbook
Write Me a Web Page, Elsie! by Rachel McAlpine has been a popular university text around the world. This textbook covers everything web content writers and web copywriters need to know, from structure and language to academic content and social media content marketing. Comprehensive and thorough — and a very entertaining read.
Book: table of contents
Rachel McAlpine's comprehensive book includes 21 Chapters and 472 pages.
21st century business writing
Why the dream seems impossible
Not your usual reader
Plain language online
F-headlines: flying the flag
F-summaries: do or die
F-link and cuff-links
The feng shui of online content
Function and dysfunction
Focused, freestanding content
Fresh and factual content
Photos, figs, Flash and audio
Findable content
Democracy online: social, ubiquitous, accessible content
Standard pages need a brain
The secret life of intranets
E-government: because you must
Commercial content: trust me
Academic content
International web content
Culture change: fixing all content
---
Course reviews