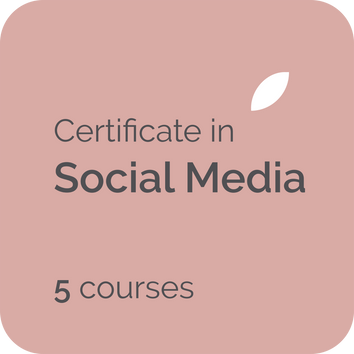 Certificate in Social Media Writing
Instant training for tweeters, bloggers and newsletter writers — 5 online content marketing courses
$135.00
---
Course overview
A quick way to train yourself and staff to write and manage social media content. In 5 hours, discover what you can achieve with a blog, a Twitter account, an email newsletter and some key online writing skills. Accredited CPD qualification.
This popular certificate shows how to use social media strategically and get the results you want. Equivalent to a one-day introductory training programme.
You will gain:
a professional development certificate (PDF) accredited by the CPD Standards Office, London
5 hours CPD for your records
introductory techniques for writing social media content with impact
strategies for successful blogging, tweeting and newsletters
up-to-date skills that you can use across all social media
takeaway course materials.
Certificate curriculum: 5 x one-hour courses
Twitter for business: Understand Twitter and start the right way. Learn what to tweet about and how to write tweets that influence an enormous, friendly community of customers, colleagues and competitors.
Starting a successful blog: Learn why blogs are now essential for successful businesses; how to develop a strategy; how to write influential blog posts, and universal guidelines for bloggers.
Writing email newsletters: Discover the secrets of popular, powerful email newsletters. Write newsletters that get opened, make an impact and achieve results.
Writing web headlines: Use headlines in social media to grab attention and influence search results in blogs, tweets and newsletters.
Writing for search engines: Improve search results just by the way you write. Know the principles of SEO copywriting as they apply to blogs and all social media, including tweets.
How this Certificate works
Audience: Business owners; communication professionals; marketers; journalists.
Prerequisite: None, apart from a computer and internet access.
Qualification: Professional development certificate (PDF) in social media writing. CPD credit: 5 hours.
Time and place: Distance learning. Start any time. Study online: your place, your pace.
Duration: 5 hours study. You can access the social media writing courses for 90 days from the time you first log in.
Assessment: 5 online tests.
Authors: Alice Hearnshaw and Rachel McAlpine, respected specialists in digital content, are the course authors. Rachel has taught in Australia, Japan, China, New Zealand and Singapore.
---
Course reviews