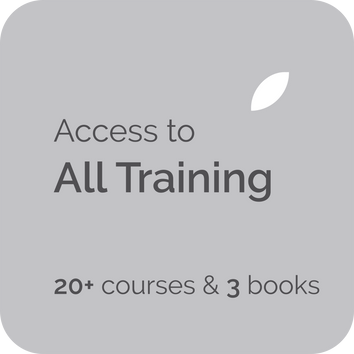 Access to all writing courses and books
All business writing courses and books in one training package 
$420.00
---
Course overview
All your business communication training needs in one training package — online courses in digital content writing, web copy writing, business writing, social media writing, content marketing, SEO copywriting and web accessibility.
Access all Contented online writing courses and books for a full year, including any new courses we release. This is our best value training package for professionals and job seekers who want to broaden and sharpen their web content writing and digital communication skills.
These courses are essential for communication professionals, web content writers, technical writers, content marketers, content managers, content strategists and copywriters. They also benefit anyone who writes for work, including writing blogs, newsletters, policies, procedures and social media.
What the subscription training package includes
You have access to all our accredited professional development certificates, plus any new content courses we release. You also have access to three technical writing e-books.
Certificate in Web Writing: 5 online courses on how to write web content for online readers and search engines.
Certificate in Accessible Content: 5 online courses on how to write web and PDF content that complies with web accessibility guidelines in the US, Canada, New Zealand and Australia, or anywhere with the WCAG 2.0 standard.
Certificate in Business Writing: 5 online courses on plain English, sentence construction, document structure, modern punctuation and grammar, and business report writing.
Certificate in Social Media Writing: 5 online courses on how to create a content strategy for social media and write business blogs, email newsletters and tweets.
You will gain 11 must-have digital content skills
You will learn:
how to attract online readers

practical skills in web content writing and web copywriting

why writing for digital media differs from print media
the mechanics of digital content and how search engines work
how to use metadata and keywords effectively
web accessibility standards for PDF and web content
how to use a content management system properly
about writing content for mobile phones and devices
plain English writing techniques for international audiences
content marketing with email newsletters and blogs
simple social media and SEO copywriting techniques.
Top features of the subscription
Written by content specialists and expert trainers

4 certificate courses, 2 additional courses and 3 textbooks

Accredited by the CPD Standards Office, UK

20+ hours of study

100% money-back guarantee

Highly flexible, scalable and cost-effective
Subscription details
Audience: You, if you want to advance in any business communications role. You need these skills for jobs in business communication, web content writing, online publishing, content marketing, public relations, technical writing, content management, SEO copywriting, digital communication, and many government jobs.
Prerequisite: None, apart from computer and internet access. No knowledge of IT or accessibility required.
Qualification: 4 professional development certificates, independently accredited by the CPD Standards Office in the UK: 20 credits for your CPD record. 
Time and place: Distance learning courses. Start any time within 12 months. Study online at your own pace.
Duration: You can access the online courses for 12 months. You can download and print the e-books.
Assessment: Online test for each course.
Authors: Alice Hearnshaw and Rachel McAlpine, respected specialists in digital content, are the course authors. Rachel McAlpine is the author of the books. She has taught content writing and business writing skills in Australia, Japan, China, New Zealand and Singapore.
About the writing textbooks
Rachel McAlpine writes authoritative books about all aspects of modern business communication. These technical books are used as textbooks by professional associations and universities in New Zealand, Australia and the USA.
Business Writing Plus
Update your business communication skills for the digital workplace.
Write Me a Web Page, Elsie!
How to write fresh, findable digital content for websites, intranets, blogs and social media.
Global English for Global Business
Communicate successfully in plain English with people all over the world.
---
Course reviews