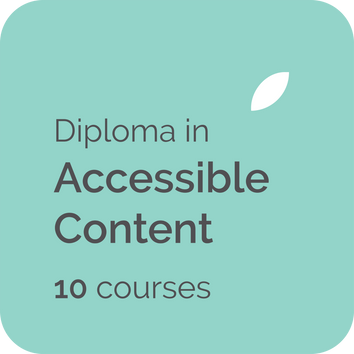 Diploma in Accessible Content
Empower your web and intranet content teams — 10 web accessibility courses
$230.00
---
Course overview
This exceptional training programme clarifies the complex web standards that content authors need to know. Cut through the jargon and stop the gush of inaccessible content with just 10 hours of practical online training. Accredited CPD qualification.
The Diploma in Accessible Content is designed for government agencies whose websites must comply with WCAG 2.0 or Section 508. 10 hours of continuing professional development (CPD), equivalent to a 2-day live training programme. No more inaccessible PDFs!
You will gain:
a recognised Diploma to add to your professional credentials, and 10 hours CPD accredited by the CPD Standards Office, London
the ability to comply with the WCAG 2.0 and Section 508 standards that require writers' involvement 
skills to make web and intranet content accessible
brand-neutral techniques to make PDFs accessible
protection for the accessibility features of web technology and design
a money-back guarantee from Contented
takeaway course materials.
Diploma curriculum: 10 x one-hour courses
Writing for online readers: Communicate successfully with readers who are uncomfortable, stressed, searching, and in a hurry.
Writing web headlines: Write web headlines that instantly communicate with people and influence search engines.
Writing web page summaries: Write 5 distinct types of web summaries that communicate the main message instantly. Recognise summaries that do not work.
Writing useful hyperlinks: Write more useful links than Click Here. 
Using images and graphs online: Use graphics appropriately, and make them accessible.
Plain English, part 1: Check readability, structure documents and write concisely.
Plain English, part 2: Use clear words and sentences; avoid grammar mistakes.
Using a content editor tool: Use your CMS or web editing tool correctly; avoid common errors that destroy web accessibility.
Writing for WCAG 2.0: Understand the standards in WCAG 2.0 and Section 508 which affect web writers. Know how each course in the Diploma in Accessible Content matches standards in WCAG 2.0 and Section 508.
Making accessible PDFs: Create an accessible document and convert it to an accessible PDF.
How this Diploma works
Audience: For IT professionals, technical writers, web developers, web teams, intranet teams, content owners, content managers and content strategists. Also for subject experts, copywriters, and general staff who write as part of their job.
Prerequisite: None, apart from a computer with internet access. No  IT or accessibility knowledge required.
Qualification: Professional development diploma in accessible content. 10 hours CPD credit.
Time and place: Distance learning: Start any time. Study online: your place, your pace.
Duration: 10 hours study, equivalent to a 2-day workshop.  You can access the writing courses for 180 days from the time you first log in.
Assessment: 10 online elearning tests.
Authors: Alice Hearnshaw and Rachel McAlpine, respected specialists in digital content, are the course authors. Rachel has taught in Australia, Japan, China, New Zealand and Singapore.
Upgrading from a Diploma in Web Content
Have you already done our Diploma in Web Content?
If so, just do the Certificate in Accessible Content, and then you'll qualify for the Diploma in Accessible Content.
---
Course reviews
Customer Reviews
Some really good content. Could use a bit of modernisation.
The training has some great entry level advice for folks starting these types of roles. I think that with a bit of a graphics and navigation update along with some updated examples (perhaps even an option to branch into a few different spaces that the learner can choose) would be great. You could have a minimum number but also give an option to look at a few more for those that want some additional help. It would be good to have a 'pre' and 'post' version of self-check so that learners can see growth across the course. The content was good, and info was good but a couple updates would make it amazing. Even with this feedback, have recommended the course to others. Again, constructive criticism rather than negative review.